The Most Effective Anti-aging Exercise to Reverse Aging Losses; Take up Senior Body-Building and Rebuild Senior Health and Fitness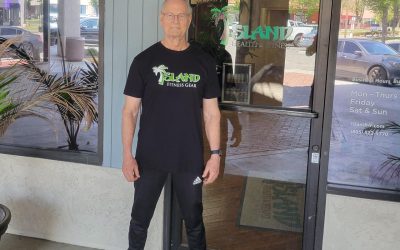 Hire me, Frank Wilhelmi, Senior Fitness Specialist, BS, ME, CFT, as your Personal Trainer and I will give you skills to keep an aging body in top shape into your 80s, 90s and beyond! Let me (at 83) show you strategies that work life-long to sustain real long-term...
Weight Training – to trigger your anabolic, or muscle-building process.
Weight Training – The Most Effective Anti-aging Exercise to Reverse Aging Losses; Take up Senior Body-Building and Rebuild Senior Health and Fitness
At every age, muscles get stronger and bigger with the right kind of exercise – Every Age! Forget all the talk about walking and soup-can exercises! To get your body to reverse the normal age-related wasting away of your muscle structure and strength, you must start building it again. This means training with weights at levels which cause muscle growth – anything else is less effective. Every weight training study done on geriatric subjects shows that strength and size increases; at every age.
Stronger is better, and at any age you can make significant gains. We advocate the use of weights in training heavy enough to stimulate muscles to grow (but light enough to avoid injury), along with the right nutrients to promote their growth and proper rest to let them recover and grow RAPIDLY. But, you don't just grow muscles. With this demand on your body's anabolic/repair mechanisms, the whole body follows its lead.
Every bodily function increases its activity and works toward meeting this demand. Your whole being works better. Once you start this reversal, all your organs will function better. You'll be stronger, stand straighter, walk faster and more assuredly, your bone density will climb and your fat melt away. People will think you're years younger and you'll feel that way.
My goal here is to first convince you that the older you get, the more you need to be working with weights to constantly improve strength and bodily function, and second, to show you the best approaches, techniques and strategies to make your workouts effective, fun, satisfying and injury-free. For a look at the basics of weight training in a very encapsulated form, with critical insights to optimal nutrition for getting lean, strong and reversing the aging clock, check out Old School – New Body but come back to us when your done, Okay.
You will also find Frank's 3 Day Training Routine that produces real and rapid results while allowing ample time for recovery for seniors. This the strategy I have used for a couple of decades to keep my body looking like someone in their 30s. I don't have ripped abs, and carry a bit more fat than in my 30s, but I still have a 32 in waist and can handle more weight that anyone I know at my age in my gym.