While not specifically directed at the senior population, Will Brink's writings on the technologies of nutrition, weight management and bodybuilding are directly applicable at any age to those who wish to stay lean strong throughout life. Will Brink is a columnist, contributing consultant, and writer for various health/fitness, medical, and bodybuilding publications.
His articles relating to nutrition, supplements, weight loss, exercise and medicine can be found in such publications as Lets Live, Muscle Media 2000, MuscleMag International, The Life Extension Magazine, Muscle n Fitness, Inside Karate, Exercise For Men Only, Body International, Power, Oxygen, Penthouse, Women's World and The Townsend Letter For Doctors. He is the author of Priming The Anabolic Environment and Weight Loss Nutrients Revealed. He is the Consulting Sports Nutrition Editor and a monthly columnist for Physical magazine and an Editor at Large for Power magazine.
Will graduated from Harvard University with a concentration in the natural sciences, and is a consultant to major supplement, dairy, and pharmaceutical companies. He has been co author of several studies relating to sports nutrition and health found in peer reviewed academic journals, as well as having commentary published in JAMA. He runs the highly popular web site BrinkZone.com which is strategically positioned to fulfill the needs and interests of people with diverse backgrounds and knowledge.
The BrinkZone site has a following with many sports nutrition enthusiasts, athletes, fitness professionals, scientists, medical doctors, nutritionists, and interested lay people. William has been invited to lecture on the benefits of weight training and nutrition at conventions and symposiums around the U.S. and Canada, and has appeared on numerous radio and television programs. William has worked with athletes ranging from professional bodybuilders, golfers, fitness contestants, to police and military personnel. Will has written two authoritative books on Building Muscle and Losing Fat. These e-books are jammed full of detailed strategies for making you strong and lean.
These strategies work for seniors!
You may think that because you are getting on in age that you are limited to chair exercise with soup cans. Not so! The older you are the more your body will "wake up" to strenuous, progressive weight training. Will's books can show you how to get maximum results in minimum time with optimum efficiency. The first of these is Brink's "Body Building Revealed", and is, in my opinion, the the most complete, comprehensive and easy to understand information published to date on "how to achieve lean muscle gains". (It has even been described by bodybuilding legend Lee Labrada as a "must read").
Anyone who's been working out for any length of time knows that your efforts in the gym will largely go unrewarded if you don't eat and train correctly. And, the results become more elusive and hard to obtain as you age. At 70 years of age you are not going to respond like a teenager, but respond you will, and the results will be visible to everyone who knows you. Many experts say that if you're trying to build lean muscle as much as 80% of your end results are down to correct nutrition and rest – NOT training. This being true it simply makes no sense at all to go to the gym without learning how to eat correctly. …And Will's information is quite simply the very best out there (in my opinion) to help you achieve this – for two simple reasons:
1) It's all scientifically proven – Will is a leading researcher and consultant.
2) His information is proven in real world results – Will's clients as a trainer include an impressive list of top name athletes as well as SWAT and Navy Seal special operation teams.
In the first section of Body Building Revealed you'll learn just about all you need to know about eating to build lean muscle fast. It's brilliantly written, extremely easy to understand and takes you step by step through what would otherwise be the daunting task of putting together your own personal "lean muscle building diet" – you'll be shown how to do it in the exact same way that professional athletes do. In the following chapters, Will explains in depth how to train , which supplements to use and which to avoid, how to do your cardio to retain lean mass, whilst still losing body fat, and pretty much everything else you could ever need to know to gain muscle. Is his material up-to-date? The material is continually updated with the latest nutritional and exercise science,  the latest versions are on line and the membership gives you constant access to all updates for life.
Besides the written information you get access to an amazing resource which Will call's his "Inner Ring" in which you basically get free consultancy with Will, along with an incredible array of diet planning tools, unique articles from other leading industry experts and much more. It really is awesome stuff, and you'll not find such an immense amount of muscle gain knowledge and information in one place anywhere else.. of that I'm sure! I can safely say this is the most complete guide to building muscle I have ever seen, the only downside if there is one is it's size , this thing is 630 pages long, it's a monster, but then again it has a great index and table of contents and you can just click to the section your interested in. I can't recommend it enough. Click the icon and you are there: 

His second book, The Fat Loss Revealed e-book, is split into 4 main chapters, one covers all the supplement information you could ever need, including a supplement scoreboard with an "at a glance" view of what works and what doesn't. He also has a private forum you gain access to with Fat Loss Revealed which has over 300 brand name supplement reviews. The second chapter is an in depth fat loss diet, that he has passed on to high paying clients who need to really get in shape. He gives you his basic but effective fat loss diet but also explains all the advanced fat loss techniques such as carb cycling, re-feeding, and such like, if it's not in this e-book, then you don't need it.
I've never seen such an in depth look at all the advanced dieting techniques on offer, he really knows his stuff. Then there's a chapter on resistance training, he has workouts for beginners right up to very advanced trainees. The e-book even has free weight workouts for people who can't get to a gym, it all includes photographs and you can even watch videos of the exercises in his members area which you get free access to when you purchase Fat Loss Revealed.
Then there's more interesting information on motivation, and how to really stick to your program, which is so important for long term success. Advanced cardio techniques for really stripping off resistant fat are also included in the cardio chapter. There is so much invaluable knowledge in this manual, I can't really do it justice here. You will have to check it out for yourself to truly understand how impressive this program is. Will was having a special a couple days ago where he was giving away 12 months access to his Fat Loss Revealed members area, it's amazing.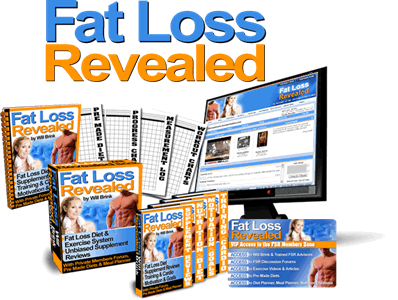 You get access to a huge private online area, where you can get one-on-one support from the author and from personal trainers . They also have pre-made diets you can download which match the Fat Loss Revealed diet program, they have a really good Diet planner as well which lets you keep track of all your food, make recipes, even see a graphical presentation of your progress. So, if you feel it's time to lose your body fat once and for all, reading "Fat Loss Revealed" is the best possible way to get it done. Click the icon and get the whole story: